Little alternatives
Klutz Junior: My Simple Sewing
Sale price Price £7.99 Regular price Unit price / per
Tax included.
Shipping
calculated at checkout.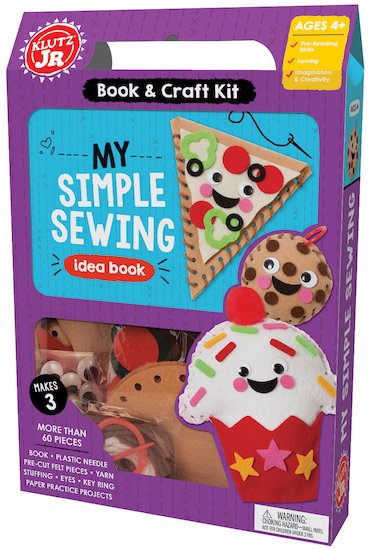 Klutz Junior: My Simple Sewing
gbp prices

You save £3.00
Our price£7.99
RRP£10.99
Description
Klutz creates award-winning, premium activity kits for kids. Sew your own pizza pouch, cookie keychain and cupcake plush!
Little makers will start by practising on 2 cardstock projects with plastic needles specially designed and safe for small hands.
Then using the pre-cut and pre-punched felt, kids can create 3 cute projects-a pizza pouch, a cookie keychain, and a cupcake plushy. It's the sweetest way to build fine motor skills and learn how to sew!
Includes everything you'll need for 2 cardstock practice projects and 3 final projects
Practice basic stitches with a donut and sandwich, then make a cupcake plushy, cookie Keychain, and pizza pocket
All felt pieces are pre-cut and pre-punched to make stitching easy for little hands
Includes an "idea book" With easy to follow instructions
Promotes fine motor skills, dexterity, and practical knowledge of sewing
WHAT YOU GET
59 pre-cut and pre-punched felt pieces
Custom plastic needle safe for little hands
2 sets of sewing cards
2 colors of yarn
5 pink foam yarn stoppers
Red pom-pom
Key ring
Stuffing
WHAT IS KLUTZ JR?
For 40 years, Klutz has been the authority on creating high-quality, innovative book and craft kits.
Now we've turned our attention to our youngest learners to keep wonder, curiosity, and creativity alive while nurturing useful skills.
Super-clear instructions
Open-ended creativity
Rewarding reading
Skills to build on
Everything you need
Empower with quality content & components
Stimulate by allowing kids to express themselves
Inspire through lightly guided play